Lunch Meeting: Tax and Non-Tax Considerations in Business Succession Planning
Date:
Tuesday, February 28, 2023
Location:
UT Club - 2108 Robert Dedman, Austin, TX
Speaker:
Dan McCarthy, J.D.
Registered for this event? Login now to view additional event details.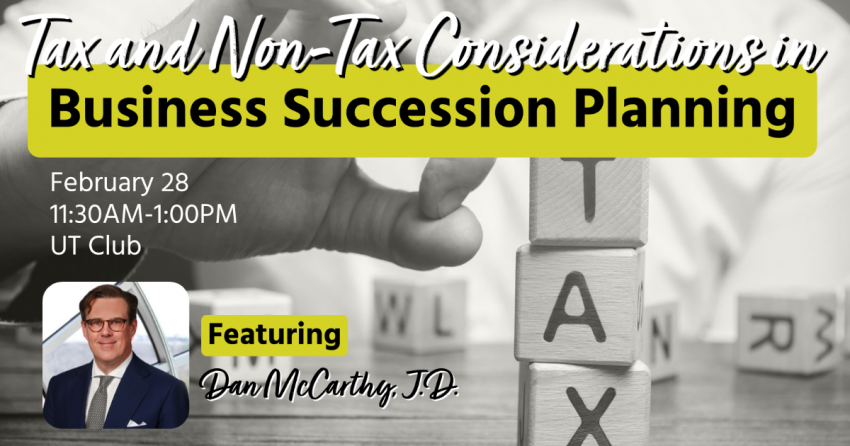 SPONSORED BY:

Business succession planning is critically important for owners of both family-owned and privately-owned businesses. The value of the business may represent a substantial portion of the net worth of the owner and care must be taken to implement a succession plan that meets the objectives of the owner to have the best chance of success and may take several years to implement. Advisors must collaborate with owners to develop the goals in both the near -term and long-term regarding succession plan. The plan should include control and governance issues, transfer provisions, buy-sell, financing, and compensation considerations. The presentation will address income and estate and gift tax issues in implementation during life and at death.
Speaker: Daniel H. McCarthy, J.D., Partner, Wick Phillips
About Dan McCarthy: Daniel McCarthy works with closely-held businesses and their owners to devise business structures to minimize income and estate tax, facilitate effective business succession plans, and protect assets. Dan focuses his practice on federal income and estate and gift taxation matters with a particular focus on pass through entities such as partnerships, limited liability companies, and Subchapter S corporations. Dan is certified by the Texas Board of Legal Specialization in both Tax Law and Estate Planning & Probate. Dan is also a Fellow in the American College of Trust and Estate Counsel.
For entrepreneurs who have built considerable wealth over the course of their lives, succession and estate planning can be complicated issues. Dan excels in analyzing multi-faceted business matters, distilling the surrounding legal complexities into understandable concepts so his clients can take action with clear options before them. He works with high net-worth individuals to determine how they can provide for their families in a thoughtful and equitable manner, determining how to defer and eliminate income tax, minimize estate taxes, and facilitate charitable gifts in a tax efficient manner.
Dan is highly experienced at managing matters with multiple stakeholders, particularly within a family setting, with a goal of managing existing relationships and minimizing the potential for family conflict in the future. He counsels clients to take considered measures, balancing financial considerations with a view to preserve their legacy and family harmony for future generations.
Dan also works with clients on the federal income tax aspects of acquisitions and dispositions of businesses, drafting partnership and limited liability company agreements, tax deferred real estate exchanges, and equity compensation arrangements.
Menu: *Special meal requests cannot be guaranteed onsite. Please note any special dietary requirements or food allergies on the registration page.
► CLASSIC CAESAR SALAD: Romaine Lettuce, Parmesan Cheese, Herb Croutons, Caesar Dressing
► PAN ROASTED AIRLINE CHICKEN: Herb Natural Jus
► LOCAL MIXED BERRIES ROMANOFF: Strawberries soaked in orange liqueur, topped with a tangy and sweet sour cream whipped cream topping.
Deadline to register or cancel is Wednesday, February 22 at noon. Guarantees to the venue necessitate this policy.
**MEMBERS: PLEASE LOGIN TO REGISTER.**
EPCCT has a contractual obligation with the UT Club that requires the organization to give a guaranteed number for meals 5 business days in advance of each event. We have had a considerable number of no-shows recently and as such, leading to wasted food and money. As a courtesy, if you need to cancel your RSVP, please contact EPCCT 5 business days prior to the event so that we can adjust our guaranteed number without penalty.